Saturday, 14 August 2004
Under construction
Posted by Matteo ALDROVANDI at 8:30 PM BST
Friday, 13 August 2004
Who is who in OGAE Italy?
Ogae Italy represents the Italian Fan Club of the Eurovision Song Contest! It started in February 1990 thanks to the will power of the tuscan Federico Stufi who allowed the Italian Fans of the Eurovision Song Contest to gather in a special club. In 2005, as you can see, it will be our 15th anniversary and we hope to become more and more numerous! Of course our main desire is to see Italy competing again in the Eurovision Song Contest. The aim of this club, which gathers nearly 50 persons (really selected) scattered all over Italy, it's the one of sharing the passion for a great event which takes place every year since 1956, when the national televisions of 5 European countries created with the coordination of the EBU (European Broadcasting Union) the first Eurovision Song Contest, which here in Italy it is called `EUROFESTIVAL'!
Matteo ALDROVANDI is the new chairman of Ogae Italy, which is associated with an European circuit of Ogae's clubs all aiming the same target. We intend to point out that our association has no profit.?? We have an yearly meeting on the same day when Eurovision Song Contest is broadcasted. Maybe you do not know, but Italian Television RAI does not even broadcast it, so we gather together to watch it in a Cinema, on a very big screen by Satellite from the Spanish Television TVE. Our last meeting was held in Livorno, central part of Italy.
??
?Beside watching the Eurovision Song Contest and voting like "the Italian Jury", during the day we enjoy visiting the town that host the "Italian meeting", having lunch and dinner altogether, playing Eurovision Trivia Pursuit game and of course know each. Italy is a big country, so we haven't many occasions to meet all of us.
?Even if we are a small Club, OGAE ITALY is proud to present its own "Ogae Italy Song Contests": WORLD PEACE SONG FESTIVAL. The World Peace Song Festival is an annual event run since 1996 by Federico Stufi. Countries from all over the World submit songs for an Eurovision Song Contest's style competition via cassette/CD and mail. The Contest has a special interest in minority languages. TOP OF EUROPE: The aim of this contest is to guess the winning song of the OGAE SC. You have also to indicate the presumed score that the presumed winning song of OGAE SC will earn. Of course, the Prize will be the cd-album containing the Italian entry at OGAE SC.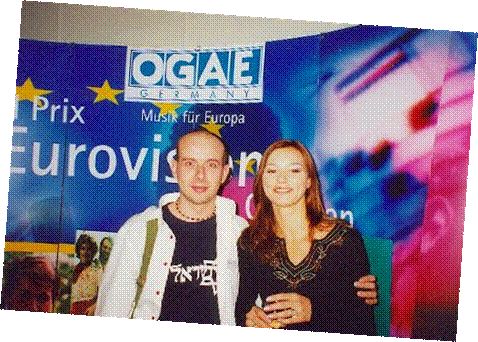 Posted by Matteo ALDROVANDI at 11:28 PM BST
Updated: Saturday, 14 August 2004 4:20 PM BST
Newer | Latest | Older